Are you ready to host the ultimate ice cream-themed birthday party? Look no further! In this comprehensive guide, we will walk you through the steps of planning and executing an unforgettable ice cream party that will delight both children and adults alike. And to make things even sweeter, we'll showcase how ThePrettyPartyBoxx, your trusted source for party and hosting supplies, can help you bring this theme to life. Get ready to dive into a world of ice cream bliss!
1. Choose the Perfect Ice Cream Birthday Theme:
Set the stage for your ice cream extravaganza by selecting a captivating theme. Whether it's a classic ice cream parlor, a vibrant ice cream bar, or a whimsical ice cream vendor cart, make sure the theme matches the guest of honor's preferences. Consider incorporating their favorite flavors, colors, or even their preferred ice cream shop into the theme. ThePrettyPartyBoxx offers a wide range of ice cream-themed decorations, including banners, hanging decorations, and table centerpieces, to help you create a cohesive and visually stunning atmosphere.
2. Send Out Invitations That Excite: 
Capture your guests' attention with eye-catching ice cream-themed invitations. Include fun elements like ice cream cone illustrations, sprinkles, or even scratch-and-sniff stickers that smell like ice cream. Don't forget to mention the date, time, and location of the party, as well as any special requests, such as dressing in ice cream-themed attire or bringing their favorite toppings. With ThePrettyPartyBoxx's selection of invitation cards and stationery, you can effortlessly set the tone for a deliciously delightful celebration.
3. Create a Delectable Ice Cream Bar:
The centerpiece of your ice cream party will undoubtedly be the ice cream bar. Set up a self-serve station with an array of ice cream flavors, toppings, and sauces that will make everyone's taste buds tingle with excitement. Begin by selecting a variety of crowd-pleasing ice cream flavors and display them in stylish ice cream containers. ThePrettyPartyBoxx offers an assortment of disposable bowls, spoons, and cups, as well as charming ice cream cone holders and ice cream-themed tablecloths to add a touch of whimsy to your setup.
Enhance the experience by providing a selection of toppings, such as sprinkles, crushed cookies, chopped fruits, chocolate chips, and syrups. Arrange them in colorful containers and label each topping for easy identification. Guests will have a blast creating their own ice cream masterpieces, and it's a fantastic opportunity to showcase your creativity and attention to detail.
4. Set the Stage with Ice Cream Decor:
Transform your party space into an ice cream paradise with thoughtfully chosen decorations. Start with colorful balloons, streamers, and banners in ice cream hues like pastel pinks, blues, and yellows. Hang paper ice cream cones and honeycomb ice cream decorations from the ceiling to add depth and visual interest.
Create a dedicated photo booth area with ice cream-themed props, such as oversized ice cream cones, giant ice cream sandwich cutouts, or even a life-size ice cream cone standee. This will not only provide entertainment for guests but also serve as a fun backdrop for capturing precious memories. ThePrettyPartyBoxx offers a wide range of ice cream-themed decorations designed to help you create a visually stunning space.
5. Treat Guests to an Ice Cream Vendor Experience:
For an extra-special touch, consider adding an ice cream vendor cart. ThePrettyPartyBoxx has the perfect ice cream cart for your party. The sight of a charming ice cream cart will delight guests of all ages and elevate the overall experience.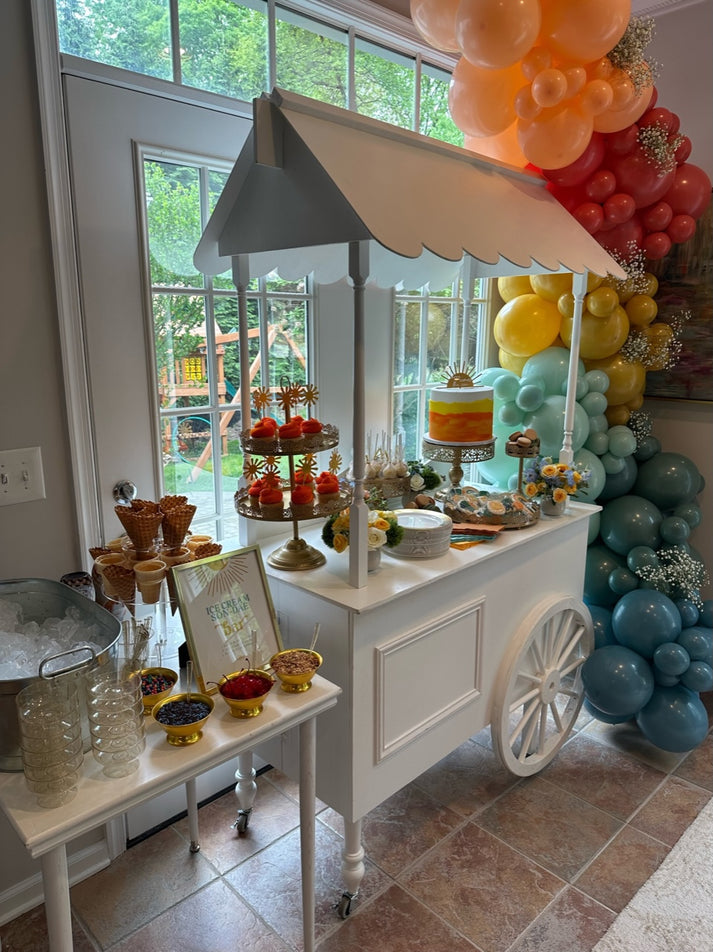 6. Plan Ice Cream Party Games and Activities:
Keep the fun going with ice cream-themed games and activities that will entertain your guests throughout the party. Set up a DIY ice cream sundae station where guests can unleash their creativity and compete for the title of "Best Sundae." Consider organizing a blindfolded taste test challenge or an ice cream-themed trivia game to add excitement and friendly competition.
Sweet Party Favors:
As the party comes to a close, send your guests home with sweet memories and a delightful party favor. Personalized ice cream-themed items, such as mini ice cream bowls, keychains, or lip balm, make wonderful keepsakes. ThePrettyPartyBoxx offers a variety of party favors and personalized goodies that will make your guests smile long after the party ends.
Hosting an ice cream-themed birthday party is a guaranteed way to create a memorable celebration filled with joy, laughter, and delectable treats. With ThePrettyPartyBoxx by your side, your ice cream party dreams can become a reality. From decorations to party supplies, they have everything you need to set up an amazing ice cream party that will leave a lasting impression on your guests. So, start planning your next ice cream extravaganza today and get ready to indulge in a world of sugary delights!