A memorable party isn't just about great food, music, and decorations—it's the small details that leave a lasting impression on your guests. As the owner of The Pretty Party Boxx, a one-stop-shop for all your party and hosting supplies, we take pride in providing a wide range of unique and stylish party favors for adults. In this blog post, we'll delve into our extensive collection of adult party favors, ensuring your next celebration will be an unforgettable experience.
1. Paper Favor Bag and Paper Treat Bags
Our collection of paper favor bags and paper treat bags is both eco-friendly and visually appealing. Crafted from high-quality materials, these bags come in various designs, including polka dot and floral patterns. They add a touch of sophistication to your event and are perfect for holding sweet treats, small gifts, or party mementos.
Looking for a creative and nostalgic party favor idea? suitcase favor boxes are a delightful choice. These charming containers evoke a sense of wanderlust and vintage elegance, making them a perfect way to present your guests with small keepsakes or edible treats.
Add a touch of culinary elegance to your party with Charcuterie favor cups. These stylish cups are not only visually appealing but also versatile. Fill them with an assortment of candies, nuts, or other delectable treats, and your guests will be impressed by your attention to detail and thoughtful presentation.
Sweeten up your adult party with mini honey jar favors. These adorable jars are filled with delicious honey, symbolizing good wishes and sweet memories for your guests. They are perfect for weddings, bridal showers, or any occasion that calls for a touch of sweetness.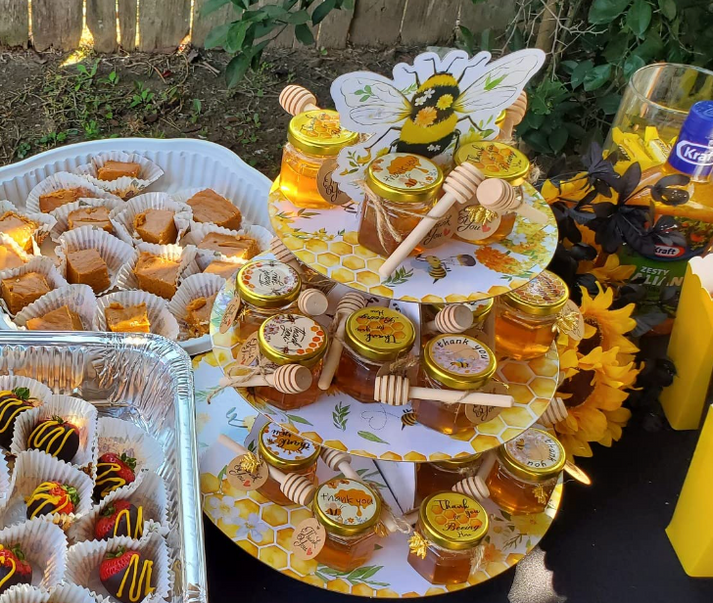 5. Cake Domes
Treat your guests like royalty with cake domes, an exquisite way to showcase delectable desserts. Whether it's a mini cake, cupcakes, or other delicacies, these domes add an air of elegance and sophistication to your party favors.
6. Black and White Macaron Favor Box
For lovers of gourmet treats, black and white macaron favor boxes are a must-have. These stylish boxes are designed to hold delicate and colorful French macarons, making them a delightful and visually pleasing party favor option.
Looking for a playful and mouthwatering party favor? Candy charcuterie gift box is the perfect choice. Packed with an assortment of candies and sweet treats, this delightful favor will add a burst of color and joy to your adult celebration.
Treat your guests to a delightful surprise with mini cake favors. These individual-sized cakes are beautifully decorated and presented, making them a wonderful and thoughtful way to express your appreciation for their presence.
9. Personalized Party Favor Bags
Make your guests feel extra special with personalized party favor bags. Add names or personalized messages to the bags, creating a unique keepsake that will remind them of the fantastic time they had at your event.
At The Pretty Party Boxx, we understand that every party is an opportunity to create unforgettable memories. Our extensive collection of adult party favors is designed to elevate your celebrations, leaving a lasting impression on your guests. From elegant paper favor bags to delightful mini honey jar favors, each offering reflects our commitment to providing unique and stylish party and hosting supplies.
Whether you're planning a wedding, bachelorette party, graduation celebration, or any other adult gathering, our party favors are sure to add that extra touch of magic. Visit The Pretty Party Boxx to explore our diverse range of party supplies and create moments that will be cherished for years to come. Let us be a part of your special occasions, making them truly extraordinary and memorable.